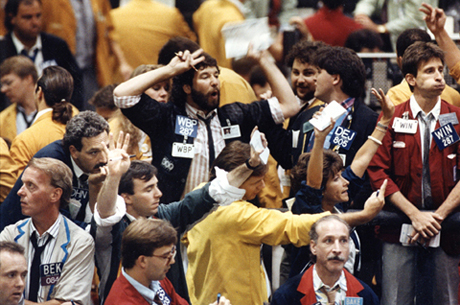 About Pit Trading 101
On a cold Saturday in 1996, a small group of aspiring traders gathered in a classroom at the Chicago Mercantile Exchange to participate in the University of Trading. Open to anyone who wanted to attend, the students learned about pit trading, the legendary system of "open outcry" trading pioneered in Chicago's famous futures pits. 

Back then, the world markets were booming and the trading floors in Chicago were the center of the financial universe. Traders were like rock stars, making money hand over fist while chatting it up with Maria Bartiromo on CNBC after the close.

On this day, these men and women would experience first-hand what it felt like to put on a trading jacket and make trades in the CME's currency pits; to experience that thrill and know if they were cut out for a job as a pit trader. Some people were hooked immediately, while others quickly learned that it wasn't for them.

A documentary film crew was given rare access to tape this particular class, which happened to include a young trader named Jonathan Hoenig. The resulting footage was never used and sat, untouched, for 17 years. During that time, the entire industry disappeared. In 1996, there were over 10,000 floor traders working in Chicago's four exchanges, making it the trading capital of the world, a bastion of U.S. capitalism. By 2013, there were less than 250 left as a result of computerized trading. This film is a look back at a job, an industry and a world that no longer exists.
---
Pit trading was unique to the Chicago way of life for over 100 years. The four financial exchanges: Chicago Board of Trade (CBOT), Chicago Mercantile Exchange (CME), Chicago Board Options Exchange (CBOE) and the Chicago Stock Exchange (CSE) were important financial hubs and the liquidity these traders provided was critically important to the entire world.

The average person, observing the trading floor from one of the viewing stations, would see a chaotic mass of sweaty bodies, standing shoulder-to-shoulder, shouting and making incomprehensible hand gestures. But in reality, pit trading was an orderly process. The hand signals were used to communicate orders; once mastered, the traders could communicate faster with gestures than they could with their voices.

The trading floor attracted people from all walks of life. You didn't need an Ivy League degree; in fact, you didn't need a diploma at all. A mix of intelligence, physicality, independence and tenacity enabled a person to thrive as a pit trader. You needed to be able to take a risk and think for yourself, to differentiate yourself and stand out in the crowd. These are lessons that transcend the pit.
---
Jonathan Hoenig, Producer, is managing member at Capitalistpig Hedge Fund LLC. A former floor trader at the Chicago Board of Trade, Hoenig's first book, Greed is Good was published by HarperCollins. He is a frequent commentator in the financial press, and has written for publications including The Wall Street Journal Europe, Wired, Maxim and Chicago Sun-Times. Jonathan was named one of Crain's "Forty Under Forty" and is a member of the Economic Club of Chicago.